Jesus loved loves William Cowper.  That thought brought me great encouragement this morning because Cowper wrote things like this:
Hatred and vengence -my eternal portion
Scarce can endure delay of execution -
Wait with impatient readiness to seize my
Soul in a moment.

Damned below Judas; more abhorred than he was,
Who for a few pence sold his holy Master!
Twice betrayed, Jesus me, the last delinquent,
Deems the profanest.

Man disavows, and Deity disowns me:
Hell might afford my miseries a shelter;
Therefore Hell keeps her ever-hungry mouths all
Bolted against me.

Hard lot! encompassed with a thousand dangers;
Weary, faint, trembling with a thousand terrors,
I'm called, if vanquished, to receive a sentence
Worse than Abiram's.

Him the vindictive rod of angry Justice
Sent quick and howling to the centre headlong;
I, fed with judgment, in a fleshy tomb am
Buried above ground.
Those words were written by Cowper during one of his many bouts with insanity.  You can read some of his story here.  During these periods of insanity Cowper was absolutely convinced that he was of the damned.  My fight against discouragement or feelings of worthlessness pale in comparison to the battle that warred within Cowper's soul.  That is why contemplating the truth that Jesus loves William Cowper was so freeing to me this morning.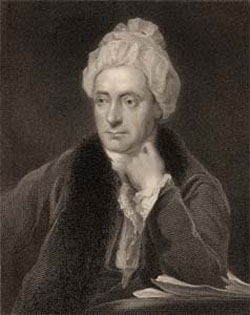 Of course it is possible that Cowper was right and that he was damned.  But he certainly showed numerous evidences of grace.  John Newton, who proved himself perceptive in caring for souls, was convinced of Cowper's regenerate state.  More than likely William Cowper is now dancing with Jesus—though he died in a fit of insanity that convinced him that he would soon be tormented along with other damned souls. 
Why is that encouraging?  It is encouraging because my feelings of discouragement do not have the power to damn me.  Neither does my battle with bitterness or cynicism.  Nor does it even matter if I fall into Cowper-like insanity, that drives me to the conclusion that I am damned.  As John Bunyan once said, "I saw that it is not my good frame of heart that made my righteousness better, nor yet my bad frame that made my righteousness worse, for my righteousness IS Christ."   
What held Cowper, what held Bunyan, and what continues to hold me is the surety of the work of Jesus Christ on my behalf.  In other words, Romans 8:31-39 is true in the life of the believer whether we grasp it or not:
31 What then shall we say to these things? If God is for us, who can be against us? 32 He who did not spare his own Son but gave him up for us all, how will he not also with him graciously give us all things? 33 Who shall bring any charge against God's elect? It is God who justifies. 34 Who is to condemn? Christ Jesus is the one who died—more than that, who was raised—who is at the right hand of God, who indeed is interceding for us. 35 Who shall separate us from the love of Christ? Shall tribulation, or distress, or persecution, or famine, or nakedness, or danger, or sword? 36 As it is written, "For your sake we are being killed all the day long; we are regarded as sheep to be slaughtered." 37 No, in all these things we are more than conquerors through him who loved us. 38 For I am sure that neither death nor life, nor angels nor rulers, nor things present nor things to come, nor powers, 39 nor height nor depth, nor anything else in all creation, will be able to separate us from the love of God in Christ Jesus our Lord.
Even insanity which falsely damns you cannot separate you from the truth of complete redemption that is found in Jesus Christ. 
Sources: