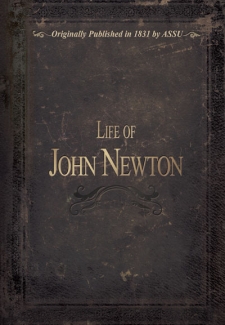 Amazing grace how sweet the sound…
You can hear the tune in your head can't you?  Amazing Grace is perhaps the iconic hymn of America.  It was composed by John Newton to go along with a sermon that he preached to his congregation in Olney.  It was not uncommon for Newton to compose these hymns to give an extra flavor to his preaching ministry.  This was just one of those hymns, but it has endured for years after Newton's death.  In fact when people think of John Newton they typically think of two things, Amazing Grace and slavery. 
In my own mind, before I really came to study Newton, I conflated those two things and assumed that Newton was converted, stopped the slave trade, and became a follower of Jesus as a hymn writer.  The reality is that Newton was converted years before he became convinced that the slave trade was an evil enterprise.  He, quite hypocritically, continued to engage in the abominable slave trade at the same time that he was beginning to rejoice in his new found freedom in Jesus. 
The Life of John Newton, a reproduction of an 1831 manuscript, details Newton's early life, conversion, and transformation from a slave trader to a passionate advocate of abolition. 
If one wishes to reduce Newton to these two prominent themes and continue this as his most noted reputation then this book will help to perpetuate that very thing.  Perhaps that is what Newton, himself, would have wanted; as he requested his monument to read: John Newton, Clerk, Once an infidel and libertine, A servant of slaves in Africa, Was, by the rich mercy of our Lord and Saviour, Jesus Christ, preserved, restored, pardoned, And appointed to preach the faith he Had long laboured to destroy, Near 16 years at Olney in Bucks; And ___ years in this church [St. Mary's in London].  Newton then ends his monument with a little snippet about his wife Mary. 
This little tract does a wonderful job of explaining Newton the infidel, slave in Africa, and saved by Jesus.  It also adds a good deal about Newton the abolitionist.  The part that it is week on is the ministry of Newton in Olney and at St. Mary's.  His letters are perhaps where we can find the most value from Newton but they are scarcely given a hearing.  Granted, there were a good number of them yet to be published by 1831, but his reputation as a letter writer and ecumenical evangelical should have been well established by 1831. 
Nonetheless, this is a helpful resource and introduction to Newton.  I only hope that the reader is encouraged to continue his or her studies of Newton…trust me there is much we can learn from this great man of God. 
You can buy your copy today for a little over $10 from Amazon.   
---
I've mentioned in the past my love for Attic Books.  This is no exception.  I love the way the book feels "old" and has inside some of those sweet pictures that were found in books of days gone by.