After I read this book I asked myself a question.  If Jesus treated me the way that I treat homeless people would I be saved?  In other words, do I reach out and rescue people in their brokenness the way Jesus did me?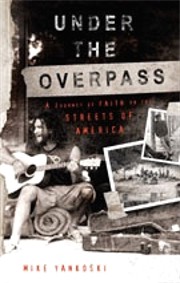 This book is phenomenal.  I found myself unable to put it down.  It was rebuking me, encouraging me, and doing it through telling a real life story.  What Francis Chan said in the introduction is certainly true; "Don't read Mike's book if you're not willing to change your attitude and actions toward the homeless". 
The book is a little over 200 pages but it reads really quickly.  It is a compelling story of two believers that felt called to live on the streets of 6 major cities for 5 months.  At the end (this is the updated and expanded version) there are tips for how we can take the truths in this book and apply them to ministering to the homeless.  Multnomah has also done us a great service in Christmas Under the Overpass Action Plan.
"Real punches aren't as sharp and clean as Hollywood makes them out to be."  That is how the book starts.  Of course it is talking about a fight between two homeless guys, but this story is a real punch to the gut of American Christianity.  Hearing stories of pastors, churches, and professing believers stare homelessness in the face and do nothing is like a swift punch to the gut that knocks your breath out, startles your emotions, and yet triggers your body to action. 
You will definitely have to stop and think when you read this book.  And I hope that your thinking leads to action as well. 
Rating 5 out of 5 Stars.  You can buy it for 10 Bucks
, or search around and get it used for even less. 
I will be interacting with this book a little more tomorrow…